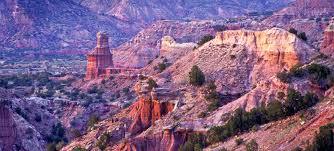 Grand Canyon of Texas
Palo Duro Canyon State Park is a natural wonderland that attracts thousands of visitors each year. Located just East of Canyon, Texas, the park is home to the spectacular Palo Duro Canyon, which spans over 120 miles and is the second-largest canyon in the United States. This breathtaking landscape features stunning rock formations, colorful mesas, and dramatic cliffs that provide a stunning backdrop for a wide range of outdoor activities.
One of the most popular activities at Palo Duro Canyon State Park is hiking. The park has over 30 miles of trails that wind through the canyon and offer stunning views of the surrounding landscape. There are trails for all skill levels, from easy paved paths to challenging backcountry treks. Visitors can also enjoy biking, horseback riding, and wildlife watching in the park.
Palo Duro Canyon State Park also offers excellent camping facilities, with over 100 campsites available for tents and RVs. There are also a number of picnic areas throughout the park.
In addition to its natural beauty, Palo Duro Canyon State Park is rich in history and culture.
Overall, Palo Duro Canyon State Park is a must-visit destination for anyone who loves the great outdoors. Its stunning landscape, diverse wildlife, and wide range of activities make it an ideal place to explore and unwind. Whether you're planning a weekend camping trip or just looking for a day hike, Palo Duro Canyon State Park is sure to leave a lasting impression.
Visit Palo Duro Canyon State Park; experience the canyon's rugged beauty and enjoy its colorful history.